McKenna Hall
To book McKenna Hall for a function, please contact Angelo.
Phone: 306-842-4481
Email: mckennaweyburn@gmail.com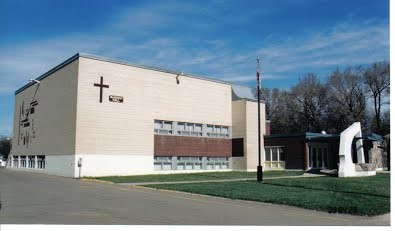 We are very fortunate to have a wonderful parish hall – McKenna Auditorium. We are able to hold many different types of functions at McKenna Hall; weddings, community events, anniversaries, public meetings as well as many parish activities and events. We have two levels - Upper McKenna which holds up to 400 people and Lower McKenna which holds up to 250 people. Each is available for use depending on the needs of the renter. McKenna Hall was built in 1965. This replaced the first parish hall which was built in 1925.
We are excited to welcome our new McKenna Hall Caterer, Angelo Fresnido, who has been very busy planning some new menu items and will be offering a new Take Out Catering Service. Angelo comes to us from the Philippines where he was 2nd in his class as a graduate with a Bachelor of Science Degree in Hotel and Restaurant Management. He managed a catering business with his brother before coming to Weyburn in 2012. Please visit our new website www.mckennahall.ca or our Facebook Page – McKenna Hall and Catering – to see our new Take Out Menu which provides catered meals delivered to your home or meeting place for 10 or more people. If you are looking for a delicious meal for a business meeting, special family event, or party, give Angelo a call at (306) 842-4481 at least 1 week in advance to make arrangements. Thank you for your support in making McKenna Hall a successful part of our Parish.
Mass Schedule
Wed

10:00am

Thu

9:00am

Fri

12:10pm

Sat

5:00pm

Sun

9:00am

,

11:00am

Mon
No Mass
Tue
No Mass
All Services